Bad Credit Car Loan/Auto Financing in Toronto, Ontario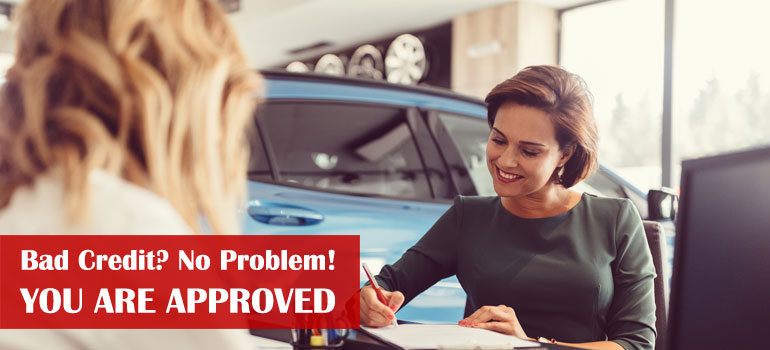 Looking to purchase a used car but feel stuck by having bad credit? No need to worry, Nexcar Auto Sales & Leasing has an easy solution just for you. We make it easy for applicants to apply for cars with bad credit and we even will work with you to develop a financing plan that works. With us, you don't have to worry about the privacy of your credit. We make sure that all client details are left private and not available for other dealerships to see. If you have bad credit we encourage you to browse our inventory and find your dream car first and then we will figure out a plan for your financing after. We like to make this process the most stress-free it can be for you.
We understand how hard trying to secure financing can be if you have bad credit. Going dealership to dealership hoping that someone will eventually approve you is extremely stressful and on top of that, it can even lower your credit score more. We can confidently say that your search is over and you have landed at the right dealership for you. Our team has experience and knows exactly what to do from here. You can rest assured that you and your bad credit are in good hands.
We want you to know that having a bad credit score does not define you. We believe you when you say that is not how your current finances run and you're ready for a car loan. Life can be filled with unexpected surprises that can work to lower your credit score. Things like being laid off from work, family emergency or even a sudden illness can all be things that affect your credit score negatively. At Nexcar Auto Sales & Leasing we are ready to help those who have bad credit and help to give a second chance.
If you want to see a variety of auto loans and car financing options then you are in the right place. We can work with you to find a solution that works for you and your bad credit. Our bad credit list of clients have all been amazed with at our team and plan for them.
Are you thinking that you want a car loan but not sure where to start with your bad credit? We suggest that you should find out exactly the number of your credit score. This will help you to further understand it and how it can affect getting a car loan. This number can be used to show how in the past you managed periodic payments or loans. As well, can be used to show how much debt you currently have. It also works to forecast when you will be able to fully pay off your debt.
At Nexcar Auto Sales & Leasing we know that it can be scary to show your credit score as most lines of credit are approved or declined this way. We want to explain to you that we offer bad credit auto financing and you don't have to be nervous with us. We are here to help and work with you. Give our used car dealership a call today at (416) 633-8188 and let's get you the financing that you approve.